HOLZ-HANDWERK Newsroom
(Digital) networking with (industry) colleagues, platforms or experts!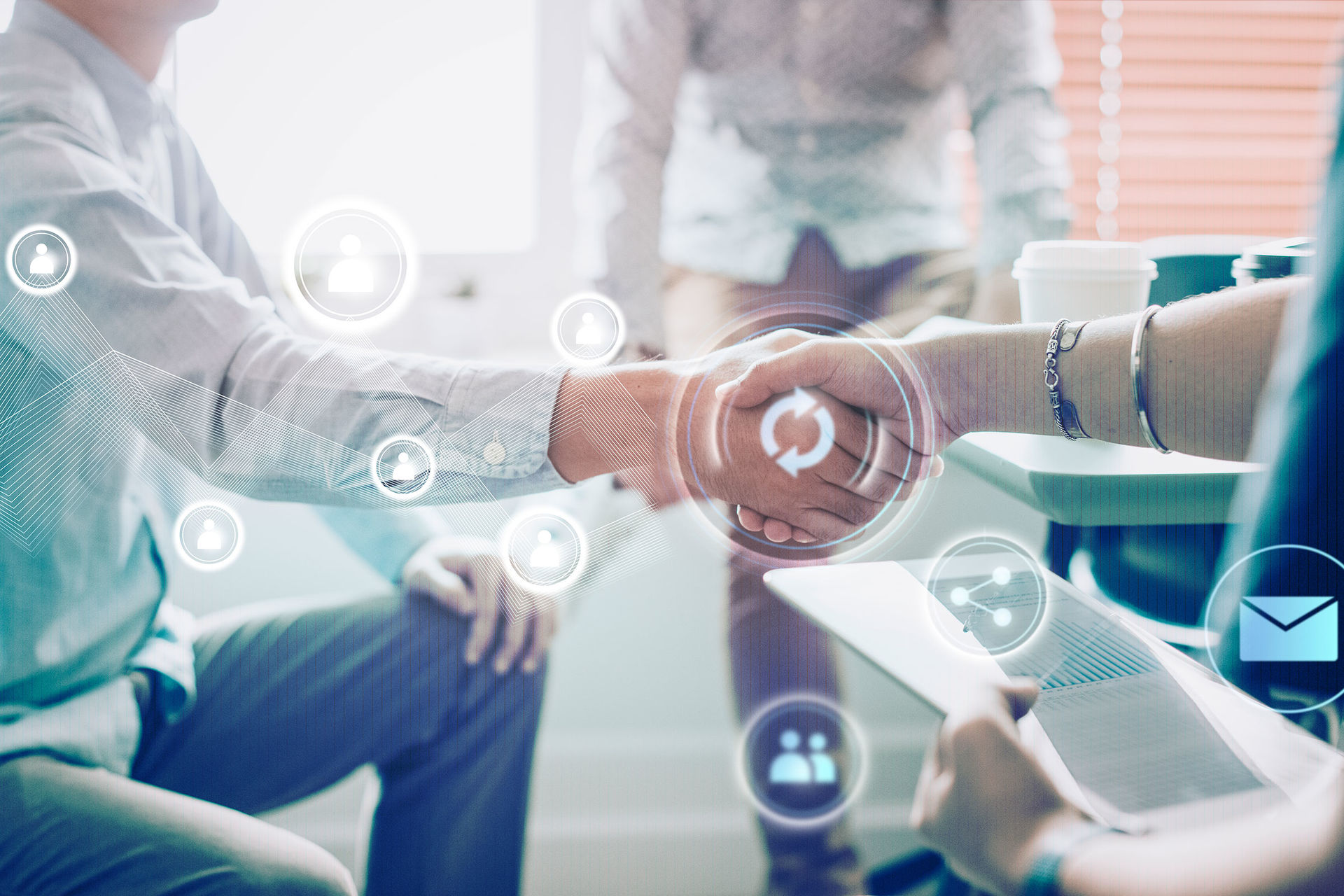 In communicating with each other and with experts, digital communication with the help of networks or within cooperations is of essential importance. It promotes the bundling of know-how and the development of ideas and solutions. Especially if you manage a small or medium-sized business that wants to develop further, you will benefit from an efficient exchange - of course, taking into account the applicable laws and rules regarding data protection or contractual agreements on the confidentiality of information.
From "occasional" to "strategic
Let's take the example of cooperation between crafts enterprises: You can act much more flexibly and also tackle more extensive projects if you bundle capacities and make a joint offer. This strengthens your competitive edge. And you are in a position to compensate for price disadvantages compared to larger competitors, for example by purchasing materials jointly in larger batches at more favourable conditions. Digital tools help with the implementation.
Sharing equipment or machines also ensures better utilisation and planning reliability. In addition, you reduce operating costs and take out investment pressure. This creates economic leeway for customer projects and related upfront expenses to be financed.
Even digitisation projects can be implemented more easily within the framework of a company network. Through the targeted bundling of competences and the exchange of know-how, it is not necessary to "reinvent the wheel" in every participating company.
The conscious appearance in an association also gives you the chance to build up a common umbrella brand from a strategic point of view, under which you can address your target group nationwide.
Types of cooperation organisation
There is a wide variety of cooperation. The possibilities range from informal local mergers with other companies within their own union to cross-union, contractually regulated cooperations with or without a corporate form to purchasing or marketing cooperations.
Digitalisation helps you to optimally manage cooperations, to operate networks, to exchange information in an uncomplicated way and to communicate quickly and easily in a way that can be documented.
Online tools such as platforms, social media, specially created websites or messenger services support you in realising cooperations.

Types of cooperation organisation
The informal mutual support of two or more companies.
You pass on orders that you cannot carry out either for capacity reasons or because they concern another specialist area to colleagues by mutual agreement with the clients or you recommend a colleague.
Legally binding cooperations
Here you need external advice and support in drawing up the contractual agreements. Inter-company coordination is crucial for the smooth running of projects. It structures, controls and moderates the cooperation.
Purchasing cooperations
Gemeinsam mit Unternehmerkollegen kaufen Sie Material und Geräte ein, um von Mengen- und Preisvorteilen zu profitieren. Einkaufskooperationen sind in der Regel einem bestimmten Gewerk zugehörig, wie z. B. Schreinereien, Innenausbau etc.
Service cooperation and joint use of machines and tools
They join forces with other contractors to offer services from a single source. Carpenters, joiners, window fitters, painters, electricians and floor layers, for example. Under certain circumstances, you can also share materials, machines or vehicles or a warehouse for them and invoice them according to use or consumption. The advantage here for the customer is a common contact person, increased competence in cooperation and cost optimisation for the individual companies.
Knowledge Cooperation
To drive innovation, you can also work with research institutions independently or together with your craft organisation. The goals can be of a very different nature: Exchange of experiences, impulses, ideas, acquisition of scientifically developed know-how for operational use or the development of completely new processes, for example for the integration of digital technologies in craft work processes.
Digitally supported distribution model
As a craftsman entrepreneur, you increasingly have to ask yourself: How can I improve and simplify the cooperation with my customers and make it even more service-oriented?
Here, it is above all online shops that make new business models possible. One example: a window manufacturer has recently started offering his windows on the internet to do-it-yourself installers. In this way, he is also expanding his customer base beyond the region.
Online configurators are also on the rise in the craft sector. More and more customers want to configure their desired products at home on the sofa instead of going to the shop. Digital networking with customers brings new scope for action.
Of course, you can implement these models yourself with the corresponding effort, for example in combination with your company website. But you can also use internet platforms that offer you corresponding services (for a fee). There, however, you are in direct competition and are directly comparable. On the other hand, you have the chance to build up a positive image through excellent leads and enthusiastic customer reviews.
Order platforms
Craftsman platforms bring your business together with potential customers on the internet. This way you can get orders (e.g. via myHammer.de) that you would not have generated otherwise. As a tradesman, you pay a monthly fee to have your profile displayed on the platform. Interested parties can send enquiries to the craftsmen they are interested in, who then submit their offers.
Conclusion
It is certainly worthwhile for you to network in one way or another. Depending on the type of cooperation, you can achieve more together, work more productively and optimise costs, become more effective, generate more turnover, find new customers or get innovative impulses. Whether it's just a loose exchange between business partners or complex cooperation projects, one thing is certain: the future is networked and more is possible together!
The forum "A practical guide to digitisation for craftspeople" is the crucible of implementation-oriented digitalisation at FENSTERBAU FRONTALE and HOLZ-HANDWERK 2022 in Nuremberg. There, from 12.07.– 15.07.2022, you will find the right path to your own digitalisation for yourself and your company over four days. Information, inspiration and concrete knowledge on this and many other topics will be available live in the form of power interviews and personal exchanges with digitisation experts and fellow craftsmen.